Lord Desai's principled resignation from Labour over Sir Keir's handling of antisemitism shows Party is not making progress under its new leader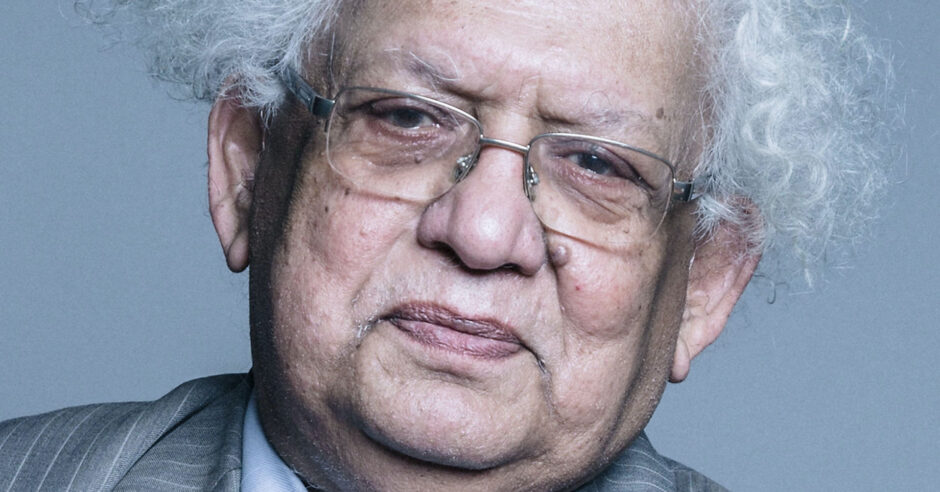 Lord Desai has resigned from the Labour Party over its antisemitism crisis, and in particular over Jeremy Corbyn's rapid and controversial readmission following the former Leader's suspension.
In a letter to The Times Lord Desai, an economist who was made a peer in 1991, wrote: "Sir, You are right to be worried about the likelihood of success of the policies of the leader of the Labour Party to fight antisemitism. I agree with you that this makes the persistence of antisemitism more likely than not. I have submitted my resignation from the Labour Party after 49 years of membership."
Mr Corbyn was suspended for downplaying antisemitism in the wake of the Equality and Human Rights Commission's (EHRC) damning report into anti-Jewish racism in the Labour Party last month, but was readmitted less than three weeks later, using a fast-track disciplinary process that the EHRC had declared unfit for purpose. Sir Keir Starmer has, however, not restored the whip to Mr Corbyn, from which he will be suspended for three months.
Lord Desai also said of this series of events: "It was a very peculiar decision to allow him back without any apology. He has been refused the party whip in the House of Commons for a few months, but that is a very lame response to a very big crisis," adding: "I have been very uncomfortable and slightly ashamed that the party has been injected with this sort of racism. Jewish MPs were abused openly, and female members were trolled. It is out and out racism."
Lord Desai's resignation is the first over antisemitism under Sir Keir's leadership, and is reminiscent of the MPs and peers who resigned from the Party over antisemitism when Mr Corbyn was Leader.
Gideon Falter, Chief Executive of Campaign Against Antisemitism, said: "Lord Desai's principled resignation from the Labour Party over antisemitism is the first such departure since Sir Keir Starmer became leader. It is a courageous decision reminiscent of those MPs and peers who quit the Party under Jeremy Corbyn in disgust. Lord Desai's decision comes after Labour conned the Jewish community by suspending Mr Corbyn and then readmitting him under a specially-fast tracked hearing using a disciplinary process that the EHRC had ruled was unfit for purpose. Lord Desai saw what the entire Jewish community saw: a déjà vu return to the revolving door approach to antisemitism instead of the just and fair due process that Sir Keir promised and the EHRC demanded."
Campaign Against Antisemitism recently lodged a complaint against Mr Corbyn, holding him responsible for conduct that is prejudicial or grossly detrimental to the Labour Party, as the Leader during the period of the EHRC's shameful findings. Given the serious detriment that this conduct has caused, we are seeking Mr Corbyn's immediate resuspension and, if the complaint is upheld, we will be requesting his expulsion. On the day the publication of the EHRC's report, we also submitted a major complaint against Mr Corbyn and other sitting MPs. These complaints are yet to be acknowledged by the Party, and they must be investigated by an independent disciplinary process that the EHRC has demanded and Sir Keir has promised but has yet to introduce.
The Labour Party was found by the Equality and Human Rights Commission (EHRC) to have engaged in unlawful discrimination and harassment of Jews. The report followed the EHRC's investigation of the Labour Party in which Campaign Against Antisemitism was the complainant, submitting hundreds of pages of evidence and legal argument. Sir Keir Starmer called the publication of the report a "day of shame" for the Labour Party.
In the first release of its Antisemitism in Political Parties research, Campaign Against Antisemitism showed that Labour Party candidates for Parliament in the 2019 general election accounted for 82 percent of all incidents of antisemitic discourse by parliamentary candidates.
Campaign Against Antisemitism's Antisemitism Barometer 2019 showed that antisemitism on the far-left of British politics has surpassed that of the far-right.
Campaign Against Antisemitism advocates for zero tolerance of antisemitism in public life. To that end we monitor all political parties and strive to ensure that any cases of concern are properly addressed.