CAA appealing Google's decision to allow Wiley to broadcast to 250,000 YouTube subscribers, including video taunting unnamed powerful cabal to take his passport away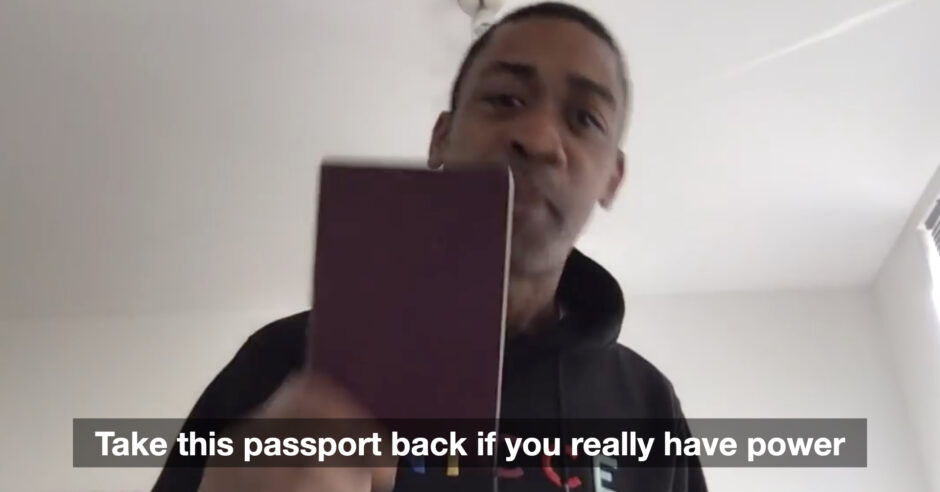 Campaign Against Antisemitism has been informed by Google that it has decided to remove only one video from Wiley's YouTube channel, from which he continues to broadcast disturbing videos to almost 250,000 followers.
The performer, who has was finally banned from Twitter, Facebook and Instagram following worldwide outrage, is now uploading further videos to a small Instagram account that appears to be new, and his popular YouTube channel.
The videos continue in the same vein as his previous videos and his recent interviews with Sky News and The Voice, a newspaper for the black community, in which he reaffirmed his belief in antisemitic conspiracy theories and bigoted stereotypes about Jews.
For example, in one of the new videos, Wiley demands that an unspecified "you", which appears from the context to refer to Jews in general, try taking his passport away so that Wiley can see quite how much power the unnamed "you" has.
In another video, he reads the name of a Twitter user and demands to know whether she is a Jew.
In yet another video, he says that he had to "throw myself on the bonfire" to show his audience and "draw everything out — you saw it".
The videos have already attracted many thousands of views, and comments posted beneath them are vehemently antisemitic.
Google has decided to remove one video, which it said was antisemitic, but not the ones cited above. Google will also revoke Wiley's monetisation privileges.
A spokesperson for Google told Campaign Against Antisemitism: "Hate speech and content that promotes hate against religious groups is strictly prohibited on YouTube. We've worked hard to develop responsible and universal Community Guidelines that make clear what content is unacceptable on our platform, and we enforce our policies consistently, and regardless of viewpoint."
We are now appealing the decision following failed talks with Google's management in the UK. Campaign Against Antisemitism has until now had good relations with Google and acts as a 'trusted flagger', helping to highlight antisemitic material on YouTube.
Hundreds of thousands of people joined the #NoSafeSpaceForJewHate boycott of Twitter and Instagram. We had hoped that social media companies might have learned from this, but Google's decision to allow Wiley to continue to broadcast his disturbing messages to hundreds of thousands of his followers on YouTube shows that Google is just as bad as the rest.
We are concerned that his fans could be inspired to act on Wiley's hateful broadcasts. That is why we have asked social networks to take him off air, and reported Wiley to the police and intend to privately prosecute him should the authorities refuse to act. This underlines how urgent it is that the Government legislates to regulate these deeply irresponsible companies.
A spokesperson for Campaign Against Antisemitism said: "We are aghast. Today is Tisha B'Av, one of the saddest day of the Jewish calendar, when we remember past persecution of the Jewish people. Today of all days, an appalling antisemite who was banned from Twitter, Facebook and Instagram following a global campaign, has shown up on YouTube to continue broadcasting, and Google has decided to defend him.
"Google is acting as though Wiley has not spent the past week spewing antisemitic conspiracy theories to hundreds of thousands of people using every social media platform available to him. He has called for Jews to be shot, for a 'war' against Jews, and said that Jews are rich exploiters, slavers, cheats, thieves and cowards. He has even claimed that modern-day Jews are in fact imposters, drawing on the same conspiracy theory whose believers have tormented Jews in London and murdered Jews in the states of New Jersey and New York.
"Google is behaving dangerously and sending a clear message that it provides a safe space for Jew-hate. Google's failure to act will not go unanswered. It is now the last bastion for this appalling antisemite. We have appealed the decision following failed talks with Google's management in the UK and hope that the company will now see sense."