CAA writes to CPS as charges are dropped against two men suspected of being in "Free Palestine" convoy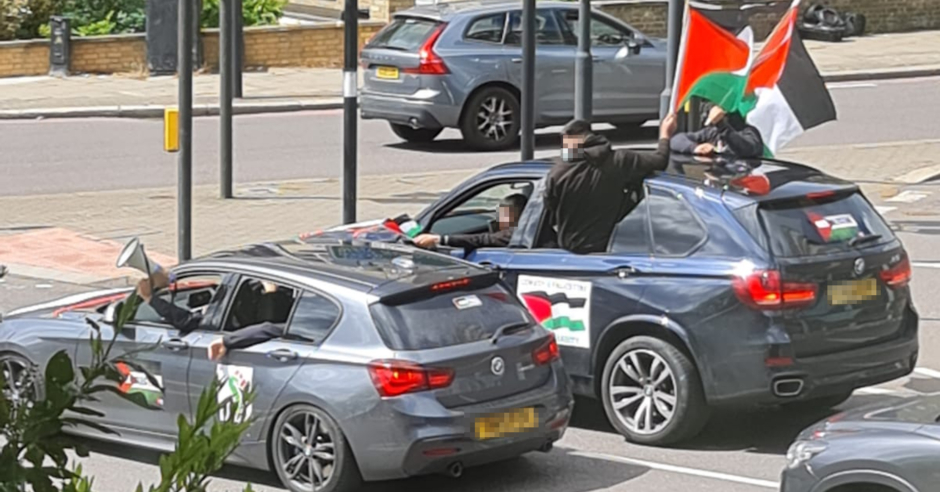 Campaign Against Antisemitism is writing to the Crown Prosecution Service (CPS) following the news that it has dropped charges against two of the four men originally suspected of involvement with the alleged antisemitic abuse shouted from a 'Free Palestine' convoy in North London in May 2021.
Mohammed Iftikhar Hanif, 27; Jawaad Hussain, 24; Asif Ali, 25; and Adil Mota, 26, all from Blackburn, appeared remotely at Wood Green Crown Court last November and pleaded not guilty to charges of using threatening, abusive or insulting words, or behaviour, with intent, likely to stir up racial hatred.
At a case management hearing last Friday, the charges against Mr Ali and Mota were dropped, but the CPS will continue with its case against Mr Hanif and Mr Hussain, 25, on the same charged.
The incident took place a stone's throw from a synagogue in West Hampstead and continued into St John's Wood. The convoy had previously and provocatively passed through other Jewish neighbourhoods as well, including Hendon and Golders Green.
The abuse was condemned by the Prime Minister and Home Secretary.
The solicitor representing Mr Mota, Ghafar Khan, said "We had advanced the innocence of Mr Mota from outset, he has stressed he is not antisemitic and has nothing against Jewish people."
A spokesperson for Campaign Against Antisemitism said: "This was an extremely distressing incident. Jewish families told us at the time that they were sent running in fear as a convoy of cars drove through London flying the flag of the Palestinian Authority and shouting the most grotesque racist and misogynistic abuse. This incident, which attracted the attention of the Prime Minister and Home Secretary, is one of too few from May 2021 that have reached the courts. It is therefore vital that the right suspects are identified, appropriately charged and, if found guilty, sanctioned to the full extent of the law. We are continuing to monitor the case to hold the authorities to account and ensure that the Jewish community has justice. We have asked the CPS for an explanation."
Campaign Against Antisemitism's analysis of Home Office statistics shows that an average of over three hate crimes are directed at Jews every single day in England and Wales, with Jews more than four times likelier to be targets of hate crimes than any other faith group.