Jeremy Corbyn joins his most rabid supporters in claiming he is victim of "mischievous" political smear campaign plotted by Jewish peer and Rupert Murdoch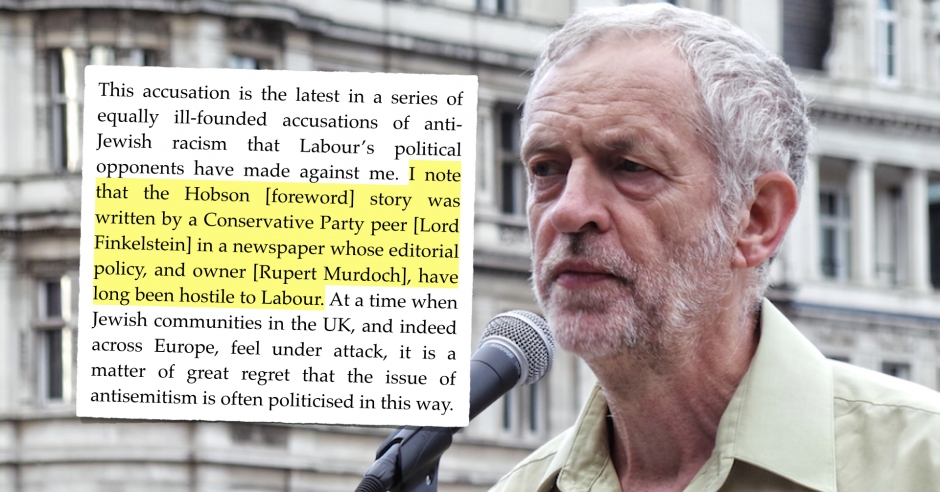 In what seems to be a major shift in policy, instead of his usual protestations of innocence when challenged with examples of his own antisemitism, Jeremy Corbyn has now gone a step further claimed to be the victim of a "mischievous" political attack orchestrated by Jewish peer Lord Finkelstein, plotted secretly with media mogul Rupert Murdoch.
Mr Corbyn was referring to the furore over his 3,500 detailed foreword to Imperialism: A Study penned by economist John Atkinson Hobson in 1902. The book contains numerous attacks on the supposed wrongdoing of Jews, who are described as a "single and peculiar race" accused of plotting to subjugate mankind through financial control, but Mr Corbyn did not once criticise these antisemitic conspiracy theories, instead lavishing glowing praise on the book, describing it as "great", "remarkable", "brilliant", "very powerful", "valid", "correct" and "very prescient".
In defending himself against the accusation that he had yet again praised an antisemite, Mr Corbyn went far beyond his usual protestations of innocence, writing in a letter: "This accusation is the latest in a series of equally ill-founded accusations of anti-Jewish racism that Labour's political opponents have made against me. I note that the Hobson [foreword] story was written by a Conservative Party peer [Lord Finkelstein] in a newspaper whose editorial policy, and owner [Rupert Murdoch], have long been hostile to Labour. At a time when Jewish communities in the UK, and indeed across Europe, feel under attack, it is a matter of great regret that the issue of antisemitism is often politicised in this way."
This statement is a clear sign that Mr Corbyn has decided to join in with his most rabid supporters in claiming that British Jews are wilfully playing a part in a political plot to smear him as a racist. In the past, when under pressure, he would occasionally rebuke his supporters for claiming that antisemitism allegations were merely political smears. Now he joins in with them.
Just in the past week, in addition to learning of his foreword to Mr Hobson's antisemitic book, it has also come to light that Mr Corbyn claimed that Israel has "control" over US foreign policy and has secret "unbelievably high levels of influence" over the British media. These revelations merely add to the already considerable weight of evidence that Mr Corbyn himself is an antisemite.
The Equality and Human Rights Commission has begun pre-enforcement proceedings against the Labour Party following a formal referral and detailed legal representations from Campaign Against Antisemitism, which is the complainant. The pre-enforcement proceedings are a precursor to opening a full statutory investigation.
In recent months, eleven MPs have resigned from the Labour Party over antisemitism, along with numerous councillors and members.
Over 50,000 people have now signed our petition denouncing Jeremy Corbyn as an antisemite and declaring him "unfit to hold any public office.