Labour Party antisemitism training uses mural defended by Jeremy Corbyn as example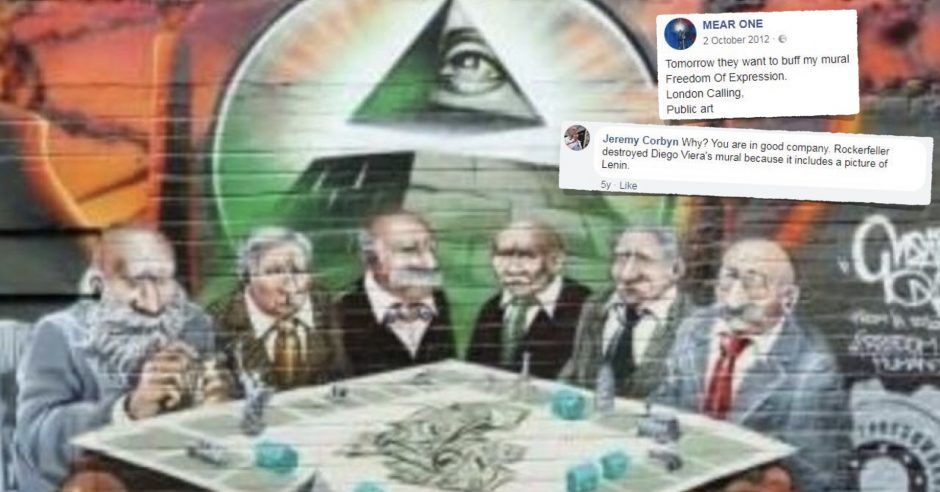 It has been reported that a mandatory two-hour antisemitism training course delivered to Labour Party MPs and officials depicts the notorious mural that was defended by Jeremy Corbyn, the antisemitic former leader of the Party, as an example of antisemitism.
In October 2012, Los Angeles-based street artist Mear One, painted a wall in London's East End which featured apparently-Jewish bankers beneath a pyramid often used by conspiracy theorists playing Monopoly on a board carried by straining, oppressed workers.
Following complaints, the mural was due to be removed, prompting Mear One to post on Facebook: "Tomorrow they want to buff my mural. Freedom of Expression. London Calling, Public art." Mr Corbyn commented: "Why? You are in good company. Rockerfeller [sic] destroyed Diego Viera's [sic] mural because it includes a picture of Lenin."
One Labour source reportedly said of the inclusion of the mural in the training: "Whereas Corbyn defended this image, course facilitators are using it as a potent illustration of antisemitism."
Other examples used in the 44-slide PowerPoint, which was announced last year and initially met with a revolt and antisemitic conspiracy theories by antisemitism-deniers in the Party, include the blood libel, The Protocols of the Elders of Zion, Nazi-era drawings, and popular internet memes. The training is required under the Action Plan agreed between the Party and the Equality and Human Rights Commission (EHRC).
The course also teaches the International Definition of Antisemitism, which was adopted by the Party, under pressure, during Mr Corbyn' tenure as leader.
The Jewish former Labour MP, Ruth Smeeth, said: "We're under no illusions. Rooting out the toxic culture will not be a quick job. We know it will take time. But by using education, a proper disciplinary process and leadership from Keir Starmer, progress is being made."
The Labour Party was found by the EHRC to have engaged in unlawful discrimination and harassment of Jews. The report followed the EHRC's investigation of the Labour Party in which Campaign Against Antisemitism was the complainant, submitting hundreds of pages of evidence and legal argument. Sir Keir Starmer called the publication of the report a "day of shame" for the Labour Party.
Campaign Against Antisemitism's Antisemitism Barometer 2019 showed that antisemitism on the far-left of British politics has surpassed that of the far-right.
Campaign Against Antisemitism advocates for zero tolerance of antisemitism in public life. To that end we monitor all political parties and strive to ensure that any cases of concern are properly addressed.