BBC tells CAA it cannot disclose how it has dealt with employee embroiled in antisemitism controversy, but today it has emerged that he has resigned, leaving questions about Corporation's handling of the controversy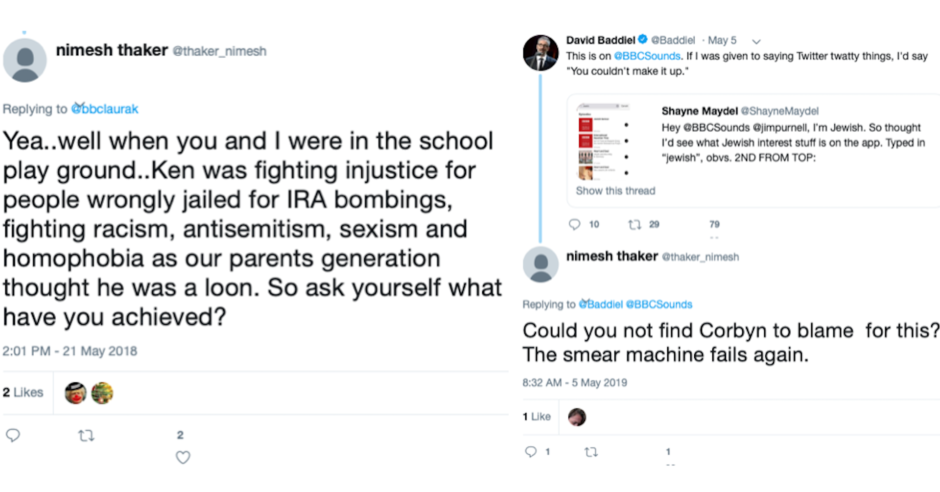 Campaign Against Antisemitism contacted the BBC this week for an update on how it has dealt with an employee caught in a controversy over antisemitic and trolling tweets, but the BBC refused to disclose whether it has taken any action beyond launching an investigation. Today, however, The Times has learned that the journalist, Nimesh Thaker, has resigned, leaving questions about how seriously the BBC took the matter and why it refuses to divulge its actions.
Last month, Campaign Against Antisemitism and the JC revealed that Mr Thaker, who has been a BBC journalist for more than twenty years at BBC World News, used a Twitter account in his name and then an anonymous account to post controversial and even antisemitic tweets, in clear breach of the BBC's guidelines.
Mr Thaker used both accounts to conduct official BBC business as well.
Using an account in his own name, Mr Thaker posted tweets describing antisemitism accusations against Jeremy Corbyn and the Labour Party as "smears" and trolled public figures who were campaigning against antisemitism. He also used the account to troll Campaign Against Antisemitism and to harass the editor of the JC and the actress and writer Tracy-Ann Oberman, tweeting at them dozens of times. He has also retweeted controversial political activists who themselves have come under fire for antisemitism, such as the notorious antisemite Jackie Walker, trolled Labour MPs over antisemitism, and defended Ken Livingstone and supported the disgraced former Labour MP, Chris Williamson. He also trolled his own BBC colleagues. The JC showed that he also behaved similarly with an anonymous account.
The Culture Secretary called the revelations "very concerning", and the BBC launched an investigation, during which Mr Thaker reportedly resigned, thereby apparently escaping scrutiny.
The BBC told Campaign Against Antisemitism that while the Director of BBC News "very much understands your interest in this matter, and that of the wider Jewish community, however our position remains that we are unable to comment about individual employment matters…Please be assured that the BBC takes allegations such as this very seriously."
However, the response failed to acknowledge that Campaign Against Antisemitism had a direct stake in the matter, not merely as an organisation that combats antisemitism but because we helped to bring the matter to light in the first place. Moreover, the response is concerning to the extent that it implies a double standard in how other racism controversies have been handled by the BBC in the past – rapidly and publicly – and how this matter has been dealt with.
A spokesperson for Campaign Against Antisemitism said: "The BBC's refusal to disclose whether it took any action at all against Nimesh Thaker is unacceptable. While there are reports that he has resigned from the Corporation, even if true this does not signal whether the BBC itself has taken this matter seriously at all. Mr Thaker's former colleagues, the Jewish community and licence fee payers all deserve to know how the BBC treats antisemitism, and whether it acts with the same gusto against expressions of anti-Jewish hatred as it does other forms of racism."