Far-right leader Mark Collett interviews Piers Corbyn where they discuss the "Jewish Question"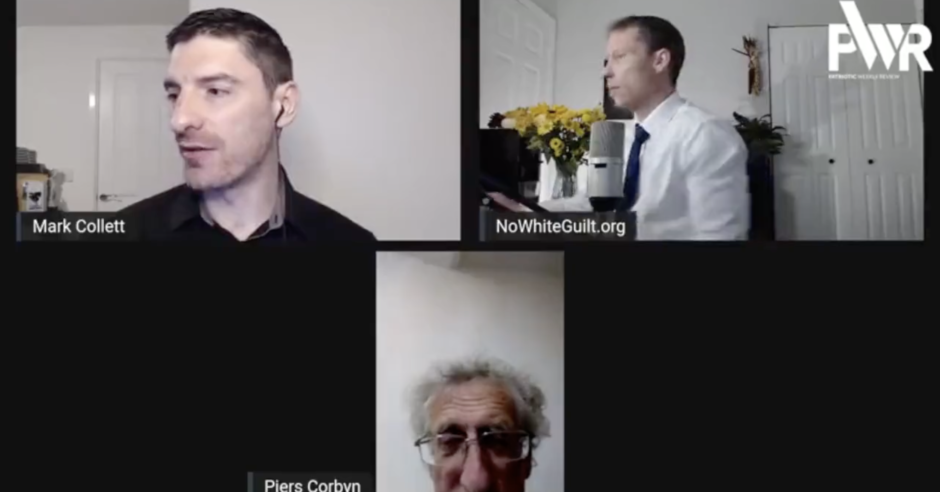 Mark Collett, the leader of the far-right group Patriotic Alternative, interviewed Piers Corbyn last night where he asked Mr Corbyn about the "Jewish Question".
Mark Collett is the former head of the BNP's youth wing who is reported to have dabbled in Holocaust denial, collaborated with the infamous American antisemite David Duke, and espoused antisemitic and racist views. He currently leads Patriotic Alternative, a group known for its efforts to recruit youth to its white nationalist ideology. Previously, the far-right group published an online "alternative" home school curriculum condemned as "poison" and "hateful" and attempted to recruit children as young as twelve through livestreaming events on YouTube, according to The Times.
The interview, which ran for almost one hour and culminated with Mr Collett asking Mr Corbyn, the brother of the antisemitic former Labour Party Leader Jeremy Corbyn, if he wanted "an easy question or a spicy question". Mr Collett, asking on behalf of one of his listeners who donated money in order to have their question read out, then asked Mr Corbyn: "Is Piers aware of the Jewish question?"
The "Jewish Question" is an antisemitic phrase that arose in nineteenth-century Europe which asserted that Jewish people's presence in society was a problem that needed to be solved. The "Final Solution of the Jewish Question" was the name given by the Nazis to their programme to exterminate six million Jews during the Holocaust. It has been reported that this term has been reclaimed by neo-Nazis and members of the alt-right, often using "JQ" as a shorthand for the phrase.
Mr Corbyn replied to Mr Collett's question by saying: "Well I'm not quite sure what that means. I mean…I'm not a Holocaust denier in case it's leading up to that, because certain things you say, we're told we're Holocaust deniers. Well, you know, the Holocaust happened and that was horrific. But that's all I can say on that."
Continuing his answer, Mr Corbyn claimed that he didn't have the time to answer the question at that moment but showed interest in discussing it at a different time. "I mean, there's lots of ways of defining the Jewish Question but the difficulty is in answering these can lead you up into certain dangers because you'll say things…so, I'm not trying to get out of that but I'm not convinced we've got the time to elaborate on that at this point in time. But if you come and see me under different circumstances we could discuss that if you want more fully if the meaning of the question could be verified a bit more," Mr Corbyn said.
A video recently emerged of Mr Corbyn claiming that allegations of antisemitism against him and his brother are a "pack of lies", and in August, Mr Corbyn suggested that "troublemakers" in Jewish areas posted leaflets created and distributed by Mr Corbyn, which compared the COVID-19 vaccines to the Auschwitz death camp, through their own doors in a "plot" to portray him as antisemitic. Mr Corbyn has compared vaccinations to Nazi policy on more than one occasion.
Mr Collett's interview with Mr Corbyn was co-hosted by Jason Köhne, an accused white nationalist and self-proclaimed "advocate for white wellbeing" who promotes a website claiming that western civilisation is threatening white people.
Earlier this month, Campaign Against Antisemitism wrote to Amazon after it was reported that the online marketplace had cut a book deal with Mr Collett, in which it was reportedly receiving profit off of his book that was found to be promoting Holocaust denial. Amazon has also been found selling Mr Köhne books.
Campaign Against Antisemitism has been monitoring and acting against the threat from the far-right for years and continues to support the authorities following suit.