BBC Panorama's exposé of Jeremy Corbyn's meddling in antisemitism cases is further evidence that he is racist and unfit for office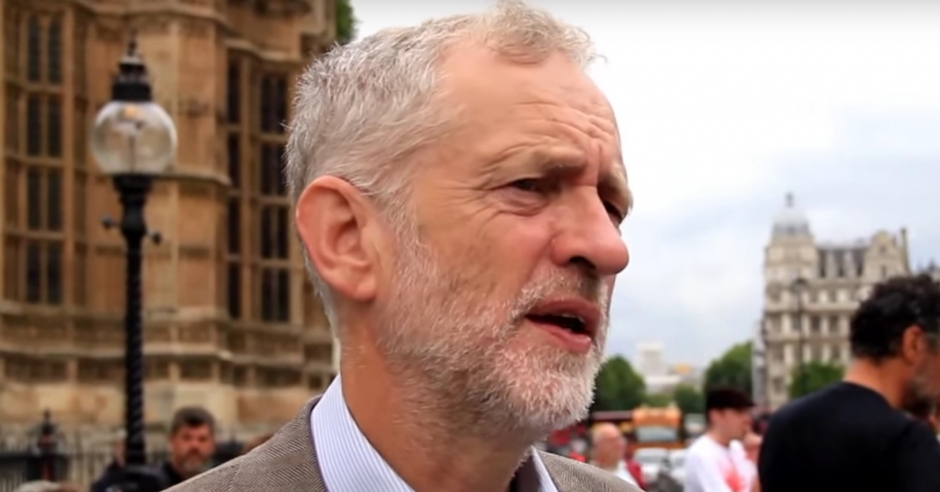 Former Labour Party employees have spoken out publicly on the BBC's flagship investigative documentary programme, Panorama, to reveal Jeremy Corbyn's personal meddling in disciplinary cases relating to antisemitism.
The documentary lays bare the scale of the interference by agents of Mr Corbyn in the process. The programme is peppered with unconvincing denials from Labour's press team.
The programme explains how senior Labour Party staffers, some of whom Campaign Against Antisemitism has known for years, used to independently run Labour's disciplinary process, but soon after Mr Corbyn's election as Party leader found themselves contending with his most senior aides.
The programme shows how brazen Mr Corbyn's staff were in their efforts to subvert due process.
Early in the Party's antisemitism crisis, Seumas Milne, often referred to as the 'brain' behind Mr Corbyn, is described as laughing by Mike Creighton, who led the Party's disciplinary team, when Mr Creighton suggested means of improving the Party's response to antisemitism. In a statement, Labour claimed Mr Creighton was lying.
However during the programme, one staffer after another described how gradually Mr Corbyn's agents increased their interference in the disciplinary process. According to the former staffers' testimony and e-mails shown to Panorama, Mr Corbyn's team and his ally, General Secretary Jennie Formby, intervened to reduce the punishment for antisemites, and even to try to alter the composition of a disciplinary panel of the Party's National Constitutional Committee.
One staffer described how a member of staff in Mr Corbyn's office said that there was a "Jewish conspiracy" against Ken Livingstone, after Mr Livingstone said that Hitler was "supporting Zionism". Another official said that a new leader of the disciplinary team installed by allies of Mr Corbyn claimed that there was no problem with an image shared by a Labour member from a far-right website depicting an alien parasite emblazoned with a Star of David smothering the Statue of Liberty.
Among the revelations made by former staff are that Mr Corbyn's office was "angry and obstructive" when it came to antisemitism; that officials brought in by Ms Formby "overruled" disciplinary decisions and "downgraded" punishments to a "slap on the wrist"; that Mr Corbyn's office demanded that documentation related to antisemitism complaints be brought to his House of Commons office for his aides to review; and that Jennie Formby stated her intention to alter the composition of a panel hearing the case of Jackie Walker.
The programme showed how impartial professional staff were sidelined and driven out as Mr Corbyn's outriders led the Party into a state of institutional antisemitism.
The former officials said that they were driven to suicidal thoughts, and mental breakdowns as a result. Some of them had to break legally-binding agreements that they had signed with the Labour Party in order to speak to Panorama. One former official said that she would not: "be able to live with myself unless I speak up about the horrendous things that I know have been happening."
In the course of the documentary, as one Jewish Labour member after another described the racism they faced, the former Labour officials said that they could not rule out the idea that Mr Corbyn himself is an antisemite, and stated that if Labour's current rules were applied to him regarding his actions and statements before his elevation to leader, that he would be expelled from the Party.
Inflexible and unbending in their thinking, Mr Corbyn and his team are amongst the last adherents of discredited antisemitic myths generated in the postwar Soviet Union, the 'anti-Imperialist' ideas of Hobson, and the 'Jewish Question' of early Marxism, ideas that the formerly Social Democratic Labour Party thought it had left behind, but failed to purge from its "broad church". Pickled in ancient racism, they are immune to the complaints of antisemitism that the British Jewish Community has experienced. Within this inner group, under Mr Corbyn's command, it is no wonder that anti-Jewish racism is enabled and encouraged, allowing conspiracy theories and bigotry about Jews to flourish.
Campaign Against Antisemitism declared the Labour Party to be "institutionally antisemitic" back in 2016, followed by other Jewish community charities two years later.
Campaign Against Antisemitism submitted complaints to Labour itself calling for Jeremy Corbyn to be disciplined, under the same rules that have seen Jackie Walker expelled and Chris Williamson suspended, rules that Mr Corbyn has himself similarly breached.
We were also the first to rightly call Jeremy Corbyn an antisemite, a term used again by the Party's former General Secretary, Lord Triesman, when resigning the Labour whip in disgust yesterday.
Campaign Against Antisemitism's correct diagnosis of Labour's racist sickness was subsequently vindicated when the Equality and Human Rights Commission agreed to act on our referral and launch a full statutory investigation into antisemitism within the Party following our submission of evidence to them.
Despite the Labour Party finding itself in the company only of the fascist British National Party in being subject to such an investigation, it has failed to alter its behaviour — bearing witness, as if it were needed, to its ingrained institutional blindness to the hatred of Jews among its own members and officers.
Since then, figures such as their own former Lord Chancellor Charles Falconer — initially asked by the party to investigate the matter for them — have been publicly aghast at the Party's failure to deal promptly and clearly with extreme cases that have emerged since the investigation was announced.
In response to the Panorama broadcast, Gideon Falter, Chief Executive of Campaign Against Antisemitism, said: "Former Labour officials, have been compelled by their conscience to speak out, revealing the scale of the duplicity behind Labour's failure to address the Party's antisemitism crisis. Whilst claiming to act against Jew hatred, Jeremy Corbyn's agents and allies have carefully protected antisemites.

"It was heartbreaking to watch the testimony of honourable lifelong Labour officials contemplating suicide and suffering breakdowns because of the actions of Mr Corbyn and his team. This testimony will add significant weight to the statutory investigation that the Equality and Human Rights Commission is undertaking following our referral.

"The charade of Jeremy Corbyn as an anti-racist activist has been blown apart. Mr Corbyn's support for antisemites and his team's protection of antisemites demonstrate that Mr Corbyn himself is an antisemite who is unfit to hold any public office, including that of Leader of Her Majesty's Most Loyal Opposition. For as long as the Labour Party is in Jeremy Corbyn's grip, it cannot be a force for good."