Man who allegedly berated Jewish family on Tube for twenty minutes identified and charged with multiple racially aggravated public order offences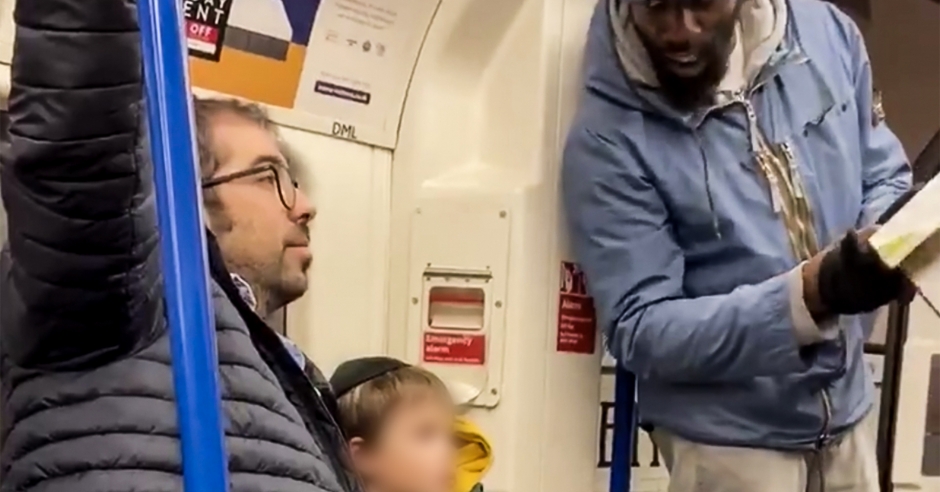 A man who allegedly berated a Jewish family on the London Underground for twenty minutes has been identified and charged with multiple racially aggravated public order offences.
Isher Campbell, 35, of Dudley is due to appear at Westminster Magistrates' Court on 5th August in connection with the incident last November, which was filmed by another passenger. The suspect, dressed in a hooded tracksuit top and a cap, can be seen on the video reading from what may be a bible and gesturing at a Jewish father and his sons, who are wearing Jewish skullcaps called kippot. He tells them, "I will make them of the synagogue of Satan, which say they are Jewish, and are not, but do lie," adding: "Behold, I will make them come and worship before your feet, and they will know that I have loved thee."
The Jewish man can be seen calmly putting his arm around one of his sons and comforting him, saying: "just ignore him."
An upstanding male passenger, whose face cannot be seen in the footage, confronted the abusive man, who responded by saying "I'm no Christian pastor" and threatens to punch him and telling him to: "F*** off." A brave observant Muslim woman, Asma Shuweikh, then also intervened, in order to distract the assailant from the family. Ms Shuweikh has recently disclosed that she intends to testify if the matter comes to court.
According to media reports, Mr Campbell is a born-again Christian, although further details have not been disclosed. Although Mr Campbell appeared to be reading from a bible when harassing the Jewish family, it was initially thought that he might be connected with an international fringe sect of Black supremacists that has also been intimidating observant Jewish residents in Stamford Hill and elsewhere in a similar fashion.
Mr Campbell has been charged in connection with that tube incident in November 2019 and also another in August 2019. Racially aggravated public order offences carry a maximum penalty of two years in prison.
Campaign Against Antisemitism and Shomrim North West London, the Jewish volunteer neighbourhood watch patrol, provided assistance to the victim, and we continue to monitor the case with interest.
Campaign Against Antisemitism's analysis of Home Office statistics shows that an average of over three hate crimes are directed at Jews every single day in England and Wales, with Jews almost four times more likely to be targets of hate crimes than any other faith group.